PharmaEssentia ESG Sustainability Center Unveils 2023 ESG Education Training Series
2023 / 09 / 28
Global Corporate Sustainability: PharmaEssentia commitment

Corporate sustainability has become an indispensable element worldwide. ESG (Environmental, Social, Governance) sustainability performance is a pivotal concern in the business and finance sectors, with regulations continually evolving. In 2019, we launched the "PharmaEssentia 1.0 Version_5-Year Sustainable Development Blueprint" with the support of our board of directors. Over four years of dedicated effort by the ESG Sustainability Development Center and five major functional teams, we have fortified our corporate sustainability strategy, anchored in SDG 3.
Outstanding Corporate Sustainability Achievements: PharmaEssentia Ongoing Dedication
In the 2022~2023 Performance Results Communication Year, PharmaEssentia once again demonstrates its commitment to corporate sustainability. We have continued to enhance our sustainability capabilities, both internally and externally, ensuring we create more corporate sustainable value. These achievements span various domains. Internally, we persist in deepening our sustainability performance, striving to generate additional corporate sustainability value. This entails constant cultivation and accumulation of multiple sustainability capacities, guaranteeing our leadership in sustainable development, including:
· External Recognition and Awards: In external assessments and acknowledgments
PharmaEssentia has consistently excelled. We have received accolades from international and regional awards such as the
Taiwan Corporate Sustainability Awards (TCSA), Global Corporate Sustainability Awards (GCSA), Taiwan Sustainable Action
Awards (TSAA), and Asia Pacific & Taiwan Sustainable Action Awards (APSAA) for our outstanding performance in sustainable
development.
· International-Level Ratings and Transparent Reporting
Additionally, PharmEssentia has participated in S&P Global Corporate Sustainability Assessment (CSA) for three consecutive years,
continuously improving our rating to the 97th percentile. Furthermore, the company received its first MSCI ESG (Environmental,
Social, and Governance) rating, achieving a BB rating. These international ratings certify the company's exceptional performance
in the ESG field.
· Transparent and Impartial Sustainability Reporting
PharmaEssentia has published its fourth sustainability report, transparently detailing the company's sustainability actions while
adhering to various international sustainability disclosure standards and frameworks. To enhance trustworthiness, the company
has introduced third-party audits to ensure the accuracy and reliability of the report.
· Establishment of an ESG Web Platform for Real-Time Communication
To facilitate transparent and timely communication, PharmaEssentia has established an ESG web platform. This platform provides
an effective channel for communication, enhancing stakeholders' trust and engagement. It ensures their continued focus on the
company's ESG performance and supports the achievement of its sustainability goals. This initiative strengthens the company's
connection with stakeholders, collectively driving more socially impactful business and achieving social inclusion.
ESG All-Employee Sustainability Training for Professional Knowledge Updates:
Keeping pace with evolving ESG sustainability governance and its social impact
This year, PharmaEssentia conducted its inaugural all-employee ESG sustainability training program. This training not only featured external expert consultants who assessed the company's sustainability management over the past year from a professional standpoint but also swiftly responded to government alignment with the International Financial Reporting Standards (IFRS) policy. During this training, the company introduced two new knowledge domains to all employees: International Financial Reporting Standards (IFRS) S1 and S2, as well as Social Return on Investment (SROI) social impact assessment.
· IFRS - Globally Recognized Sustainability Accounting Standards:
IFRS has become globally recognized as the international sustainability accounting standard. Financial regulatory authorities
have initiated the domestic IFRS adoption schedule for listed companies. This move aims to standardize the adoption of IFRS
by listed companies to enhance transparency in capital markets, reveal companies' resilience in ESG sustainable risk management,
and underscore the impact and importance of aligning with IFRS on corporate sustainability development. Ultimately, this helps
incorporate more sustainability issues into corporate business strategies, ensuring competitiveness in the face of the ever-changing
global economic environment.
· SROI - Social Impact Assessment:
On the other hand, the company introduced SROI, a social impact assessment method. By using quantitative and qualitative data,
SROI can assess the actual value of a company's social and environmental projects to society. This not only helps companies
identify potential social and environmental risks but also allows them to adjust operational strategies promptly, ensuring that
resources are prioritized for projects with the greatest social impact. This assessment tool not only provides valuable, quantifiable
information to top management but also helps them manage social and environmental risks more effectively, make wise
investment decisions, and adjust strategies as needed to strengthen the company's commitment to long-term sustainability
goals. It also balances economic and social value, enhancing the company's social image.
PharmaEssentia will continue its commitment to sustainability, driving excellence in the ESG field through ongoing efforts and innovation. We will promote social inclusion and actively contribute to the future.
About PharmaEssentia Sustainability Development Center
PharmaEssentia Sustainability Development Center is dedicated to being a leading force in driving sustainable development in the pharmaceutical industry. Through education, research, and collaboration, the center instills participants with a passion for proactive change, resource building, enhanced corporate social responsibility awareness, and the practice of shared long-term sustainability goals.
Achievements and Contributions in Sustainable Development Over the Past 4 Years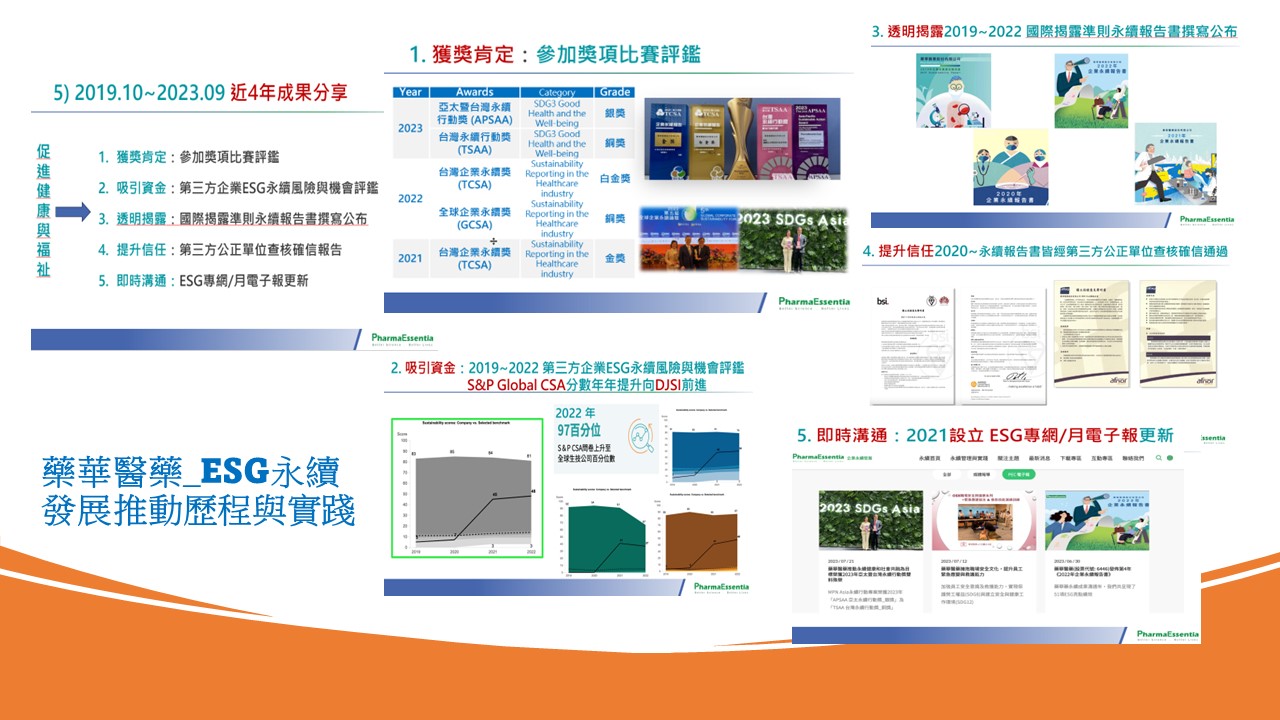 Extracts from education and training courses
Name of the program

PharmaEssentia's First ESG Sustainable Education Training and Sustainability Project Achievement
Reporting Conference in 2023

Description of program objective

The Journey and Practice of ESG Corporate Sustainability Development
Review and Recommendations on Sustainable Execution Performance in the 2022-2023 Performance Results Communication Year Introduction to IFRS (International Financial Reporting Standards) and SROI (Social Impact Assessment)

Quantitative or Qualitative impact of business benefits

Overview of PharmaEssentia's first 5 year Sustainable Blueprint , Goal Achievement and the
Demonstrated Performance of the Sustainable Development Center and Five Major Functional Teams
Continuously deepening the linkage of SDG 3 to the core value chain of the enterprise to create
sustainable corporate value
Employee Knowledge and Expertise:
PharmaEssentia's comprehensive all-employee ESG sustainability training empowers its workforce with updated sustainability knowledge, encompassing IFRS and SROI. This investment in employee expertise enhances decision-making and sustainability practices, potentially positively impacting the company's financial performance.Advocating the Financial Supervisory Commission's promotion of IFRS sustainability disclosure standards to align with international trends, helping companies prepare more flexibly in advance.

% of FTEs participating in the program

Total number of invited participants from ESG project members : 65 people;
Actual attendance: 41 people,;Actual attendance ratio: 63.08%
Number of voluntary online learning participants: 51 people
Actual attendance: Male: 41 people / Female: 51 people, totaling 92 attendees.
Total training hours: 184 hours.

Number of Management-level Supervisors (Assistant Manager and above) participating in the training

Total 27 people